There's a famous television show from the 50's and 60's called Dragnet. It centers on the adventures of a no-nonsense cop who famously tells witnesses to give him, "Just the facts, ma'am. Just the facts."
He did that because facts were hard to get, yet very important to his job.
These days, we live in a sea of information. "Google" just about any topic and you'll get thousands of search results. There's no shortage of information. But, it can still be difficult to get to the facts.
Take real estate, for example. There's a lot of news available about what's happening in the national real estate market, current overall housing prices, the best time to make a move, and so forth.
It can all be overwhelming. But, which reports can you rely on?
That's where I can help. As a real estate professional, I'm dedicated to providing my clients with the facts they need to make important decisions about real estate – facts that are backed by comprehensive data and experienced analysis of the local market.
Give me a call to discuss the real estate facts you need.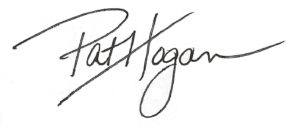 "The highest compliment anyone can give me is to recommend me to a friend.  If you know of anyone with a real estate need, I  would appreciate your referral, and promise to take good care of them".
April 2019 National Housing Report
---
HOME SALES YEAR-OVER-YEAR DIFFERENCE -1.1%
April 2018 to April 2019
MEDIAN SALES PRICE APRIL 2019 $251,000
+2.1% from April 2018
AVERAGE OF 52 DAYS ON THE MARKET
+1 days from April 2018
NUMBER OF HOMES FOR SALE
+4.8% from April 2018
*** Average of 54 metro areas.
How To Make Your Home Sale "Smooth Sailing"
---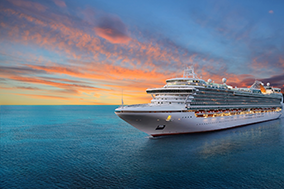 If you've ever been on a cruise ship, you know that rough waters can result in a miserable experience. Even on modern ships equipped with stabilizers, choppy seas and bad weather can leave you stuck below deck – and possibly sea sick!
But, keep an open mind. Sometimes a "diamond in the rough" can – with an upgrade or renovation – become a home you'll treasure for years.
In fact, the expression "smooth sailing" comes from a desire for calm waters.
When you sell your property, you'll want smooth sailing too! You'll want the experience to be as nondisruptive as possible, while also having plenty of qualified buyers interested in your listing. In the end, you'll want the transaction to get done without a hitch.
So how do you ensure that happens? Here are some things you can do to help:
Think of your home as a product. Potential buyers are more likely to become interested in a product that looks clean, uncluttered and well-maintained.
Price it right. If your property is listed too high, potential buyers won't come. If it's listed too low, you may leave money on the table. (Potentially thousands.) Setting the price will be one of the most important decisions you'll need to make when selling your home.
Don't be there during showings. As your real estate agent, I will take buyers through your property and show them all the great features. If you're there, some buyers may not feel comfortable and may leave before they have had a chance to become interested.
Be flexible. This is especially important, when it comes to showing appointments, negotiations, home inspections, closing dates, etc. It's okay to be firm on some things, just not everything!
The best tip of all? Use me as your real estate agent and I will make the entire experience of selling your home trouble-free and successful.
In other words, let me help you to ensure a smooth sailing experience!
Simplifying Your Home Life
---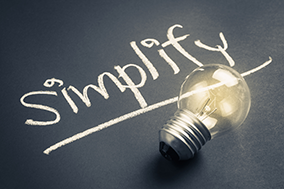 Let's face it. Life can get complicated, complex and stressful very easily. Luckily, there are plenty of ways to simplify your life, especially at home. Here are some tips from the experts:
Don't be ruled by the TV guide. Instead, select the shows you want to watch and record them. That way, you can watch what you want at the times that are most convenient for you.
Prepare some meals in advance and freeze them. Simply heat them up as needed. That will reduce a lot of after-work, "gotta-get-dinner-ready" stress.
Create a weekly dinner menu. It takes some time to prepare, but it allows you to shop effectively, and greatly reduces the stress of figuring out what to cook each day.
Don't accumulate stuff you don't want or need. Give those things away.
Simplify your cleaning by dividing tasks into 10 minute chunks (such as vacuuming the living room.) Then, fit those tasks in whenever you have 10 minutes to spare.
To avoid clutter, adopt the "touch it once" rule, which simply means you put things where they belong right away.
Limit the time you and others in your family spend checking emails and text messages. Consider having an hour or two of "no screen" time each evening.
Develop healthy routines, such as evening walks and family board game night.
These are just a few ideas. If you want to simplify your home life, you can probably brainstorm several other strategies and habits you can try. The idea is to make your home an enjoyable place to be – for you and your family.
Starting The Search For Your Dream Home?  Here Are 5 Tips!
---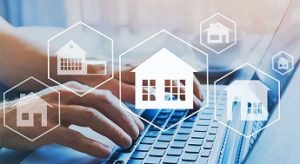 In today's real estate market, low inventory dominates the conversation in many areas of the country. It can often be frustrating to be a first-time homebuyer if you aren't prepared.
In a realtor.com article entitled, "How to Find Your Dream Home—Without Losing Your Mind," the author highlights some steps that first-time homebuyers can take to help carry their excitement of buying a home throughout the whole process.
1. Get Pre-Approved for a Mortgage Before You Start Your Search
One way to show you are serious about buying your dream home is to get pre-qualified or pre-approved for a mortgage before starting your search. Even if you are in a market that is not as competitive, understanding your budget will give you the confidence of knowing whether or not your dream home is within your reach.
This step will also help you narrow your search based on your budget and won't leave you disappointed if the home you tour, and love, ends up being outside your budget!
2. Know the Difference Between Your 'Must-Haves' and 'Would-Like-To-Haves'
Do you really need that farmhouse sink in the kitchen to be happy with your home choice? Would a two-car garage be a convenience or a necessity? Could the 'man cave' of your dreams be a future renovation project instead of a make-or-break right now?
Before you start your search, list all the features of a home you would like and then qualify them as 'must-haves', 'should-haves', or 'absolute-wish list' items. This will help keep you focused on what's most important.
3. Research and Choose a Neighborhood You Want to Live In
Every neighborhood has its own charm. Before you commit to a home based solely on the house itself, the article suggests test-driving the area. Make sure that the area meets your needs for "amenities, commute, school district, etc. and then spend a weekend exploring before you commit."
4. Pick a House Style You Love and Stick to It
Evaluate your family's needs and settle on a style of home that would best serve those needs. Just because you've narrowed your search to a zip code, doesn't mean that you need to tour every listing in that zip code.
An example from the article says, "if you have several younger kids and don't want your bedroom on a different level, steer clear of Cape Cod–style homes, which typically feature two or more bedrooms on the upper level and the master on the main."
5. Document Your Home Visits
Once you start touring homes, the features of each individual home will start to blur together. The article suggests keeping your camera handy to document what you love and don't love about each property you visit.
Making notes on the listing sheet as you tour the property will also help you remember what the photos mean, or what you were feeling while touring the home.
Bottom Line
In a high-paced, competitive environment, any advantage you can give yourself will help you on your path to buying your dream home.
Featured Zillow Review From April 2019
Click HERE to view all of Pat Hogan's Zillow Reviews
Cartoon Corner
---