Click HERE to jump directly to the homes for sale in the Cosby High School District.
Cosby High School is located at 14300 Fox Club Pkwy, Midlothian, VA 23112 and is part of the Chesterfield County Public School system, (804) 639-8340.
Information to consider before you buy a Cosby High School home for sale: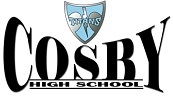 For information about Cosby High School, you may wish to visit the Official School Page Link For Cosby High School.  Here you can find everything from the school's leadership, lunches, bus routes, bell schedule, calendars, activities & more.

Additionally, you may wish to check out Great! Schools Review Link For Cosby High School

For student proficiency levels from the Virginia Department of Education for reading, writing, math, science & history as well as many other metrics.
Cosby High School homes for sale may be found in the following neighborhoods:
Ashbrook

Boyces Cove

Cloverhill Estates

Foxcreek

Foxcroft

Foxfire

Hampton Farms

Harpers Mill

Magnolia Green

Villas at Dogwood

Westerleigh

Woodlake
Tip:  If you are specifically interested in Cosby High School homes, it is advised to verify that the home you are interested in belongs within that school's boundaries.  Schools may change boundaries, and while all information is deemed accurate it cannot be guaranteed.
Homes near Cosby High School
Listings include a lot of additional information for you organized under tabs.


The "Features" tab includes all the regular information such as number of bedrooms & bathrooms, square footage & more.
The "Map" tab is simply a map of the home location.
The "Schools" tab maps out nearby schools.
The "Walk Score" on a scale of 0 to 100 lets you know how walkable your neighborhood is.  This gives you information regarding nearby restaurants, coffee, grocery store, parks, schools, entertainment & more.  Under the "See commute time to:" field, just enter your work address and you will see commute times for car, bike & walking (public transport as well if available).
90-100  Walker's Paradise – Daily errands do not require a car
70-89  Very Walkable – Most errands can be accomplished on foot
50-69  Somewhat Walkable – Some errands can be accomplished on foot
25-49  Car-Dependent – Most errands require a car
0-24  Car-Dependent – Almost all errands require a car