CLICK HERE to jump directly to homes for sale in RounTrey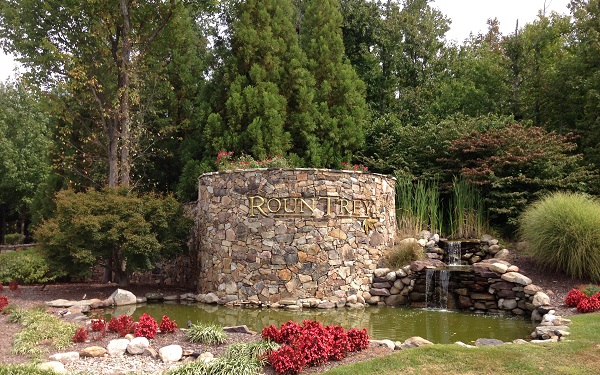 About the RounTrey Community
RounTrey is a Doug Sowers Master-Planned Community on the Swift Creek Reservoir located within 86 acres that includes shared commercial, office & retail spaces.
Focused on custom home building, RounTrey has approximately ten builders that do not focus on production homes.
"If you drive through here you are going to see a lot of different styles.  Even in one cul-de-sac all of the homes are going to be very different.  You are not going to see those cookie cutter homes next door to each other."
~ Miranda Willhelm, Marketing Director for RounTrey development
The craftsman style of home is one of the most popular with the farmhouse style gaining popularity.
Wilhelm identifies that the "custom feel" is one of the best features RounTrey has to offer.  When selecting a housing development you want a home that is customized to your individual style and preference.
"You can get into RounTrey in the 400s, which is still affordable for a lot of families," said Wilhelm.
Location is one of the top concerns for a potential home buyer.  You want your home to be near major highways and nice shopping centers.  Wilhelm also emphasized the importance of location as an attractive feature of the RounTrey development.  "We are approximately two miles from the major highways," said Wilhem.  "You can get to downtown and the Short Pump area in 15 to 20 minutes tops."
RounTrey is defined by its sense of community.  Family members of all ages can enjoy community events ranging from movie nights by the pool, ice cream socials, yard sales, and a fall festival.
RounTrey HOA
A Home Owner's Association fee of $150 is required to be paid on a quarterly basis and includes trash pick up, recycling, and general upkeep of the community.  Residents will also have access to all amenities and social events throughout the year.
New Market Estates
New Market Estates, a RounTrey Community, is currently under development with approximately 50 homes already built.  New Market Estates will offer potential home buyers a chance to build on larger lots that will provide more privacy.  The community will have their own clubhouse and pool.  Residents in both RounTrey and New Market Estates will have access to both facilities.  When all is said and done, a total of approximately 1,300 single family homes will exist in the RounTrey development.  Plans include for 220 Townhomes and 616 Multi-Family units to be built.
RounTrey Homes Offer A Number Of Amenities including:
Swimming Pool – Opened in May for RounTrey residents only that is included in the HOA fees featuring zero entry, a water slide & plenty of space for swimming laps
Fishing – The Swift Creek Reservoir offers bluegill, black crappie & largemouth bass
Fitness Center – Shared by all communities within RounTrey
Walking Trails – Throughout the community that are paved for walker, joggers & bikes.
Tennis – A competition-level tennis court under construction
Dog Park – Soon to be constructed with obstacles and gated entry
Playgrounds – Throughout the community
Waterside Areas – For waterside picnics and walks
Schools Zoned For RounTrey Homes:
Swift Creek Elementary
13800 Genito Rd, Midlothian, VA 23112
(804) 739-6305
Official School Site – GreatSchools! Site
Tomahawk Creek Middle School
1600 Learning Pl Loop, Midlothian, VA 23114
(804) 378-7120
Official School Site – GreatSchools! Site
Midlothian High School
401 Charter Colony Pkwy, Midlothian, VA 23114
(804) 378-2440
Official School Site – GreatSchools! Site
New Market Community of RounTrey zoned for different Elementary & Middle school:
Watkins Elementary
501 Coalfield Rd, Midlothian, VA 23114
(804) 378-2530
Official School Site – GreatSchools! Site
Midlothian Middle School
13501 Midlothian Turnpike, Midlothian, VA 23113
(804) 378-2460
Official School Site – GreatSchools! Review


Sorry we are experiencing system issues. Please try again.

Other ways to search houses for sale in Greater Richmond, VA